Eating together as a family is one of the most joyful parts of family life. It's a time to slow down and connect with each other - and with the help of the right high chair, your baby can really enjoy and be involved in this experience too !
When your baby starts on solid food, mealtimes can be much more interactive - and a little messier, of course! Sitting around the table together to eat is a great bonding experience for families and your baby will enjoy it as much as you do.
What is the high chair?
High chairs
are used to feed older babies and smaller toddlers. Lift the seat a distance from the ground so that an adult's height can comfortably feed the child from the standing position . It usually has a broad base to increase stability. There is a tray on the boom of the high chair that adults can put on top of the food so that the child picks up the food or feeds them with a spoon. The best high chair is usually equipped with a seat belt to fasten the child to the seat belt.
When Can Your Baby Sit up in a High Chair?
Each high chair manufacturer provides age recommendations for each chair. Most recommendations wait until the baby is 6 months old before using the high chair. This is a good starting point, but you need to make sure your baby is ready. After all, each child grows at a different rate. For security reasons, you don't have to worry.
It's easy to know when your baby is ready to sit in a high chair. Her physical development in 4 to 6 months should begin to show that she can stay in good shape with some support. When sitting down, she should show considerable stability and control, with only slight shaking. The lookup function is also required.
Features Of A High Chair
You may have many different reasons to find a high chair that fits your baby. Your living area may be small. You may need to move a lot of high chairs without worrying about dragging heavy things. You may be traveling and need a safe way to feed your baby. For whatever reason, if you want to install a high chair, we must first master four key points.
1.Safety first
Nothing is more important than the safety of your child. You need to make sure that any high chair you buy is strong and has the necessary safety features. One of the reasons why tall chairs are bulky is because their bottoms are wider than the top. Although this seems to be a big inconvenience, the foundation is important because it is stable, otherwise the chair is more likely to be tipped over.
2.Adjustable
If you don't have much space, it's a very annoying problem. You may need to have breakfast in a high chair in one area and dinner in other places. Therefore, we definitely recommend looking for an adjustable high chair. The products are different, but we prefer portable high chairs that can be raised to different heights. Feed your child and use your seat elsewhere in the house.
3.Lightweight
When the road doesn't work, or if you need to go to another area, just move it. And, if you need to hang your high chair around, you don't need to be bulky. The high chair made of aluminum and plastic is great. You may want to look for hollow bars instead of solid bars, which increases stability and shape without weight.
4.Foldable
A high chair that cannot be folded and stored is a big taboo for moms who are trying to make things work on a smaller scale. If you can fold the high chair in some way, it will be much easier to put it in the corner or the back of the room door. When you go out to a restaurant for dinner or when you are traveling, you can easily bring it.
How easy is cleaning?
Eating with a baby can be cumbersome. It was fun to watch them eat solid food first and then watch them pour most of the food on the floor (over and over!). However, choosing a high chair that is easy to wipe and clean can relieve a lot of stress. The high chair also comes with a safety tray, which is easier for parents to clean. When dining, it can be used as an extra meal, the baby can be an advanced food dispenser, and you will find that the residue in the meal is stuck in the gap in the high chair. Find a chair that wipes the surface and easily touches the corners and gaps to clean up as quickly and easily as possible. Remember to check the seat belts, frames and trays. Look for areas that may be difficult to wipe or small gaps that may pinch food. Pay special attention to the areas that the baby can reach, as these areas will almost certainly be covered by food at some point or another.
Best hook on high chair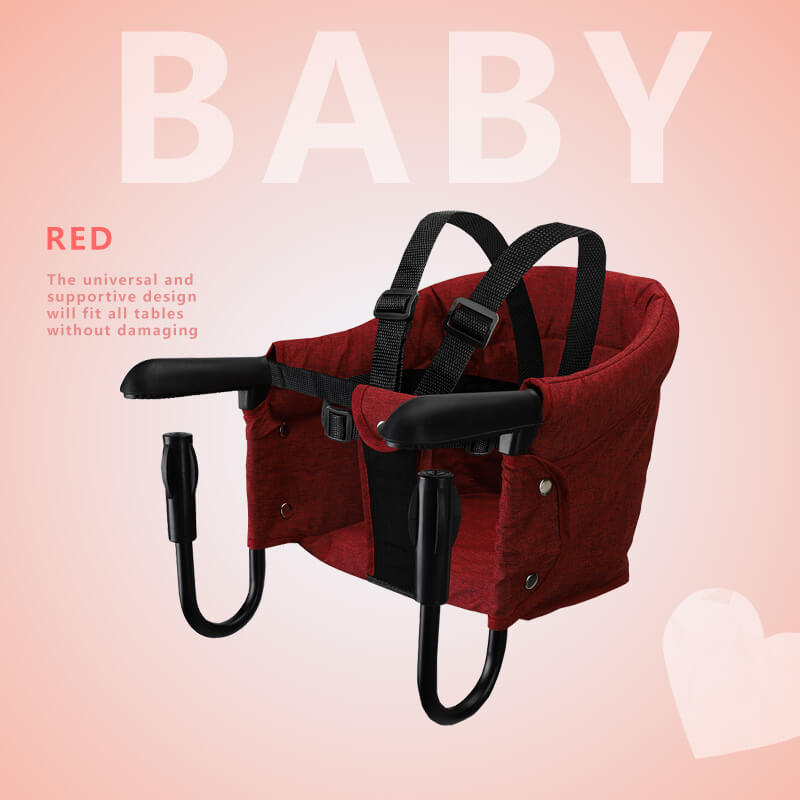 This is probably one of the modern looking and sleekest high chairs you will come across out there. You just need to clip on the table and place your child ready to serve them food. The hooks on this highchair can be used on a table that is 0.8 inches to 3.35 inches thick. It is only 4lbs in weight thus you can conveniently travel with it and it is included with a carry bag. Besides that, it just requires very few minutes to install it on the table and can be disassembled for compact storage when it is not in use.
This baby Travel high chair easily accommodates children between 6 months and up. It is a Hook-On Portable Chair that is ma
de using premium quality material and is packed with a spill-proof silicone placemat. This Hook On high Chair is an easy folding chair and comes with a stylish carry bag to carry for easy storage and transportation. In addition to that, it is constructed from light-weight metal and the seat fabric are detachable and washable.
Product parameters

| | |
| --- | --- |
| Name: Orzbow Hook on high chair | Material: Polyester, Spary steel, PP plastic |
| Storage Size: 42*36*7 cm | Expand size: 42*36*27 cm |
| Item weight: 1.8 kg | Harness type: Three-point harness |
| Color options: gray red blue | Suitable age: 6 months - 3 years old |
Community Reviews
---
"Moms love this hook-and-table chair because it is very easy to use. This may apply to most tables in your home. The chair has a reclining backrest and a solid seat to ensure your baby's comfort, mobility, hand-washable cover and more. In addition, there is a convenient storage pocket on the back that allows you to feel free at any time. The chair can be placed flat so that it can be carried with you and has a travel bag sewn to the bottom of the seat (so you will never lose it)."
---
3-in-1 Toddler High Chair
As your baby grows, you can use the fully adjustable high chair to introduce him to the table. In addition to the high chair function, the 3-in-1 high chair can be converted to a booster or toddler chair. It can be used for children from 6 months to 5 years old. The seat cushion of this high chair is machine washable and the four removable trays ensure the safety of the dishwasher. All fabrics and belts are easy to wipe clean.
Product parameters

| | |
| --- | --- |
| Name:Three-in-one high chair | Material: painted steel pipe |
| High chair:53*60*87.5 cm | Low chair:53*60*60 cm |
| Item weight: 3 kg | Harness type: Five-point harness |
| Color options: pink blue brown green | Suitable age: 6 months - 3 years old |
Community Reviews
---
"Baby portable high chair... the best gift I have ever received! We bring it anywhere in the house to the restaurant! It can be adjusted according to my needs, I think it's worth it."
---
Baby Portable Travel High Chair
This high chair can be used for travel, picnics, camping. This chair is made of durable nylon. The tray is coated with a clear vinyl that can be easily wiped clean. This lightweight, portable chair makes feeding time easy because you can set it on many different surfaces, such as the floor, grass or restaurant chair. It's compactly folded and has its own bag that you really want to take with you when you travel. In addition, it weighs less than 5 pounds but can support up to 37 pounds. The chair comes with a detachable, BPA-free tray that you can put in the dishwasher for quick cleaning. A five-point seat belt will hold your child in her seat.
Product parameters

| | |
| --- | --- |
| Name: Orzbow cheapest high chair | Material: Oxford cloth + steel pipe + pvc plastic |
| Storage Size: 18*37 cm | Expand size: 28*28*37 cm |
| Item weight: 1.9 kg | Harness type: Five-point harness |
| Color options: green blue pink | Suitable age: 6 months - 3 years old |
Community Reviews
---
"We use the Portable high chair. It comes with straps to attach to the chairs which is nice if you don't get a booth [at a restaurant]. The straps tighten down pretty well and the booster feet are non-slip so it feels secure."
---
Conclusion
A high-quality baby high chair is essential to give your child the support that they require during dinner times. The chairs listed above ensures safety, versatility, comfort, ease of cleaning, ease of use and takes minimal space. Just select one that you find it most suitable for you and your baby's needs.