Are
you worried about the safety of your baby once they start crawling and are capable of exploring? Do you wonder how to keep them out of the cabinets and away from potentially harmful substances?
It can be dangerous for your baby to reach into the door or curiously open some doors or enter a closed room. To minimize risk, the easiest solution for parents to protect their children's safety is child safety locks. I can't pay attention to children all day, but the children are full of curiosity about everything in this world, so child safety locks are necessary.
When Should I Install Cabinet Locks?
You obviously won't need any until your baby is mobile. Once they start getting up in that crawling position, it won't be long before they're speed crawling across your floor with the enthusiasm and energy only a baby could muster.
After they start crawling, it is best to lock the cabinet. If you have a variety of things in your cupboard that you shouldn't take, such as cleaning products and medicines, check out some of the best safety locks I recommend below.
1.4PCS magnetic baby safety lock cabinet door
Best Multi-Purpose Lock Set
Many lock sets work only on cabinets or only on drawers. You shouldn't have to buy multiple packs to childproof your home. The locks in this set work on both, saving you money and making installation easy.
The stickers go on the outside of the drawer or cabinet so you know exactly where to play your magnetic key. We especially love this feature if you've got babysitters or family members constantly in your home who need access to your stuff.
2.Child safety cabinet door lock (10 pieces) Used in children's drawer blocker invisible wall cabinet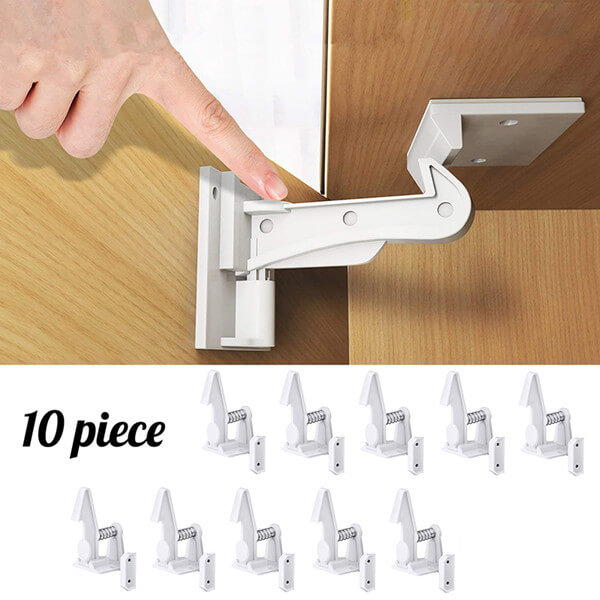 Best Cabinet Safety Latches
These will work with most cabinets and the best part for busy parents is that they're simple to put in. They won't require any tools for installation and you can have them attached in seconds.
All you have to do is peel off the plastic covering the adhesive strip, stick it on your clean cabinet and you're done. To open the cabinet once it's on, reach your finger inside the top of the cabinet, press down on the latch and you'll be in.
These are ideal for moms who want safety for their baby without ruining the appearance of their cabinets. Since these go inside the cabinet, they won't be visible. This could be important if you entertain often or if you've invested time and money into an expensive or upscale home.
3.Adjustable baby safety lock door 5/10 lock + 1/2 button
Best No Drill Cabinet Locks
This multi-purpose lock can be used on your cabinets, appliances, trash cans, windows, drawers, and even toilets to keep your child out.
Even though it will keep your baby out, you'll still be able to get into the cabinets by just using one hand easily. And you'll be able to close it just as quickly.
This lock uses adhesive to stick to your cabinet — there's no need for drilling or complicated installation.Just wipe down your cabinet with a damp rag and dry it thoroughly to make sure nothing is preventing the adhesive from sticking. After your baby is grown up and isn't drawn to all the dangers lurking in your cabinets, you can take off the adhesive without ruining your cabinets.
4.3M child safety limit lock for inserting doors, stainless steel, windows and more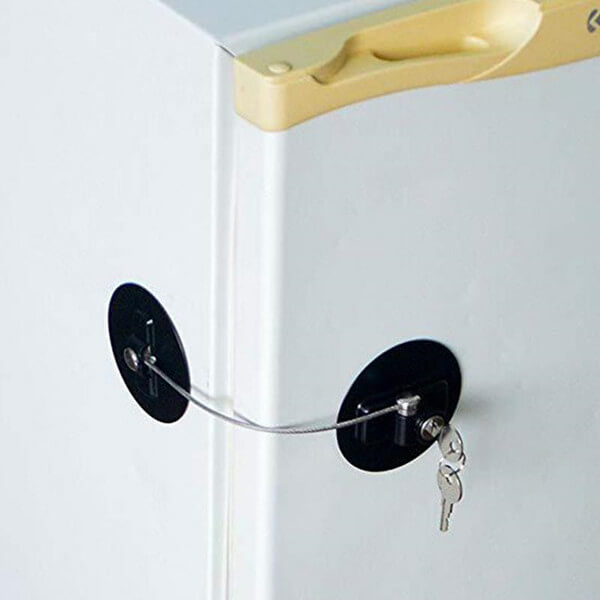 The best stainless steel door limit lock
The rotatable lock cylinder and keyless increase the safety of the door lock. The use range is very large. The external opening window, the inner opening window, the sliding window and the upper hanging window can effectively prevent children from opening the window due to excessive opening. Our seat belts use a solid 3M adhesive to attach the device until you are ready to remove it. (No damage), can be bent freely, does not hurt the glass, and is easy to install.
Baby safety is not only your top priority, but also our top priority. Our child locks have been tested many times and we believe you will love it.
5.Multi-function refrigerator, cabinet child safety lock
Best multifunctional door lock
It is very convenient for adults to open, children are difficult to open, multi-color cute shape, bring fun to your home, protect your baby's safety in all aspects, can be attached to the refrigerator, drawers, cabinets, toilets, water dispensers... tear open The adhesive on the back is attached to the drawer door, press the buckle, and pull the drawer directly. It is simple and safe to have.
Conclusion
A child safety locks for doors set will make babies safer with doors when we don't notice them. Your baby hands in the door or being curious to step outside or into a closed room can be dangerous for him. To minimize the danger, immediately think of child safety locks for doors that we introduce above.